Female politicians and leaders are redefining measurements of success, by moving beyond GDP and centering wellbeing and sustainability. This blog highlights how. 
A guest blog by Kate Petriw, Wellbeing Economy Alliance
According to the UN, since 1995 the number of females in national parliaments has only grown by a measly 11%. While progress is slow, those that are in power have been making significant strides in their roles to help improve the wellbeing of people and the planet.
It's been found that countries with more female politicians pass more
ambitious climate policies
, and those governed by female leaders had
40% fewer deaths during the covid outbreak of 2020
. One lesser known fact is that a group of largely female Prime Ministers have been working together over the past 5 years to create new metrics that go beyond GDP, and instead use indicators that better capture the health of the nation, and its environment.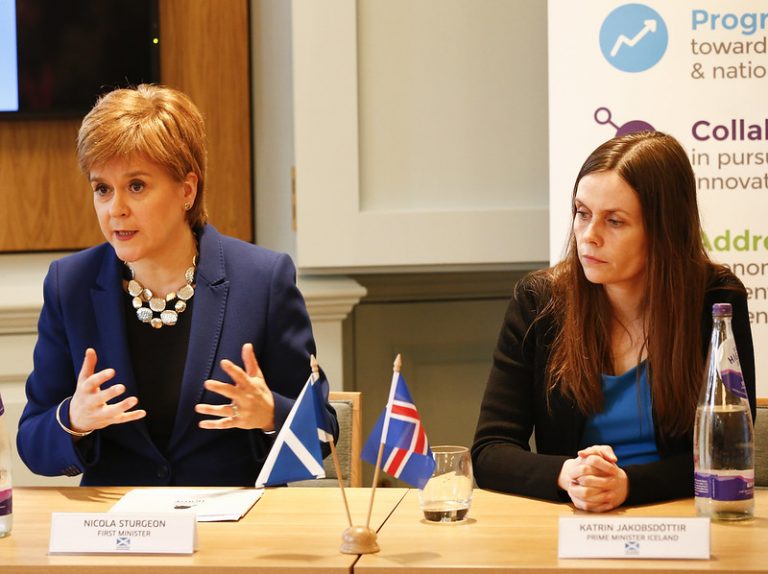 Nicola Sturgeon and Katrín Jakobsdóttir Prime Minister of Iceland at WEGo gathering in 2019
The Wellbeing Economy Governments partnership (WEGo) was started in 2017 by the First Minister of Scotland, Nicola Sturgeon, the Prime Minister of New Zealand Jacinda Ardern, and the Prime Minister of Iceland Katrín Jakobsdóttir to help advance policy innovations that promote wellbeing economies. For example in 2019 the Icelandic government launched their Indicators of Wellbeing, which looks at factors such as greenhouse gas emissions, mental health, life expectancy, poverty, and education (and GDP is only one of the 39 indicators).
Later Finland, Wales and Canada joined the group and have each created their own frameworks like the 
Economy of Wellbeing 
 (Finland), and the 
Future Generation Act
 (Wales), and the 
Quality of Life Framework 
 (Canada).
Why GDP is the wrong measuring stick
As one of the founders of WEGo Jacinda Ardern said, "Economic Growth associated with worsening social outcomes is not a success, it's a failure." There's a common misconception that GDP is an accurate measuring stick, but this couldn't be further from the truth. At the World Economic Forum Jacinda Ardern in 2019 discussed how while New Zealand looked like a rockstar economy from the outside with a growing GDP of 3%, and unemployment at only 3.9%, they had staggering rates of homelessness and one of the highest rates of youth suicide in the OECD. 
GDP simply measures the economic activity in a country, but it misses the mark when it comes to measuring the health of citizens and the planet. If the number of car crashes increases, an oil spill occurs, or a hurricane hits a nation, GDP would subsequently increase. In addition, the economic and social contributions of mothers are often undervalued and not fully recognized in GDP calculations. While it's been said that countries with higher GDP tend to have longer life expectancies, the relationship between GDP and life expectancy is not  always straightforward.
Consider Costa Rica's GDP per capita is half that of the US but they outperform them on wellbeing and the environment, with one of the highest life expectancies in the world and 98% of its energy coming from renewable resources.

So what other metrics are there besides GDP?
There are hundreds of different frameworks beyond GDP that have been developed, from the OECD Better Life Index, Thriving Places Index (from Centre for Thriving Places), to the SEED model (from Carnegie UK), to the ones being used by WEGo governments mentioned above. 
But there are so many different frameworks out there, how can you choose?
Lucky for the Wellbeing Economy movement The Centre for Thriving Places did a deep dive into eight different frameworks in their paper Shared Ingredients in a Wellbeing Economy and found that there was an overwhelming amount of agreement between each one. The models have similar headlines among them, each with the aim of providing conditions for people to thrive and flourish, in a fair and sustainable way. See the analysis of the Thriving Places Index, The SEED model, and the Doughnut below.

There were also 8 similar thematic baskets that included factors such as place, personal well being, community, democracy, health, education, environmental sustainability, and economic security.
These themes are in contrast to the narrow focus on GDP, which doesn't take into account factors that are essential to our wellbeing and the environment. It's no wonder inequality and the climate crisis has worsened when it's not really being accounted for or prioritized.
There are more detailed 'ingredients' under these themes – for example under Equity it looks at Disability, Gender & Sexuality, Social & Economic, Ethnicity, and Human Rights. From the report it's clear no matter what "type" or "label" of ingredients, most wellbeing economic frameworks have the same goals in mind: move towards a system that allows people and the planet to thrive, making the decision on which one to use far less intimidating.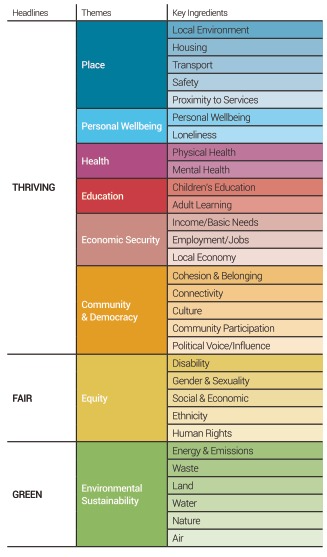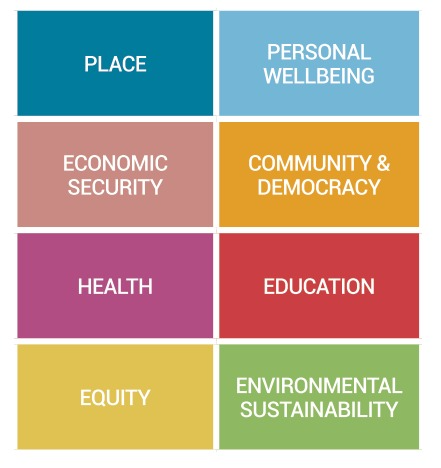 What's interesting is that the authors of the report, similar to the Wellbeing Economy Government partnership program, are mostly women. It's no surprise they are leading this movement, with their unique perspective on care, they're helping us move away from a system that prioritized wealth, competition and individuality to one that reveres empathy, community, fairness, and sustainability.