Excitement and vigour are high – and so is the will to grow and expand.
By Maxie Jost.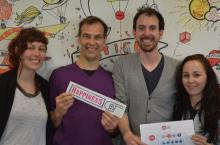 Alongside the ongoing buzz of local activities and events, with hardly any chance to rest and breathe, there've been some remarkable things evolving rather quietly in our email inbox.
Due to a spontaneous boost of enthusiasm for Happy City from all over the world, we now find ourselves overwhelmed by a tremendous number of shouts of appreciation, as well as by similarly frequent demands for Happy City's replication in other places, such as Portugal, Italy, France, Denmark, the Netherlands, Mexico and many more.  While a new development stage has certainly begun, we won't just instantly take off to a new continent either.  But the exciting times are just around the corner, that's for sure.
Full attention is now being given to the various and intertwining channels of local, national and international communication, in order to make that next step happen. The major question that needs be taken care of in this regard is how to ensure a smooth and successful growth of our soon-to-be global Happy City community – with the best possible inspirational services to everyone populating it. However, just as much as it appears to be one of the greatest strategic challenges so far, this endeavour also turns out to be an intriguing journey to new horizons of happiness visions and practices in other countries and cultures.
Talking of strategic diplomacy, at the beginning of May, we were very lucky to welcome one of our potential partners for the first time, coming over from the city of Leiden in the Netherlands. Very warmly and energetically, the Happy Planet Platform was presented to us by two of its founders, Koen and Patricia, who also took a wander through the happy city of Bristol themselves.
Once such a powerful connection is spotted and established, the much more interesting part of generating practical outputs of mutual benefit follows.  Firmly believing in the potential of the dynamics of collaboration, we are eager to take action as soon as possible, as well as remaining curious to get to know all the other potential Happy City dwellers, wherever they may be at the moment.
Maxie Jost is working with Happy City for a year on a leonardo da vinci grant from the EU. She earned her Urban Planning degree at the Bauhaus University, Germany.