One of the most heartening experiences for a charity like Happy City, which succeeds in doing much from very scant resources, is a robust demonstration of support from the local community.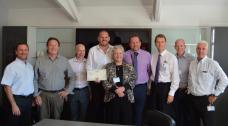 What's Right is a 6-year old membership organisation bringing together a bunch of Bristol-based businesses with a mission "to integrate the business sector with good causes and create a symbiotic relationship that can become self-perpetuating".
What that's immediately meant for Happy City is the purchase by What's Right of one of our £500 Wellbeing Bonds, the proceeds from which go to help fund our Happy City Index project.  We formally presented What's Right with a Wellbeing Bond at its June meeting this week.
The organisation raises money for charity through an interesting mechanism – a proportion of any business generated through What's Right membership by its business partners is donated to the chosen good cause.
Happy City is one of a number of local charities to benefit from the What's Right approach, which we think really does align business with organisations striving to make a difference in their local communities. Apart from the funding, a great prize is the seal of approval. When we offer seemingly complex and long-term solutions to the challenges facing individuals and communities, social enterprises like ours can often suffer from a lack of immediate understanding.
Acknowledgement from organisations such as What's Right is a real boost for us, reward for the thousands of hours of work put in by our volunteers, as well as recognition for the value the Happy City Index will bring in increasing the wellbeing of the people of Bristol and beyond.
So, a pat on the back and some much-needed funding for Happy City and a big Thank You to What's Right, which is also producing a real difference for the people of Bristol.
Thanks to Action for Happiness for the summary image