Centre for Thriving Places delivers major new report and framework for Defra.
Wellbeing has been rising up the agenda across public, private and voluntary sectors in recent years. Understanding the impact of policy and initiatives on the wellbeing of individuals, communities and even future generations is becoming an increasingly important element of the policy cycle around the UK and the world.
Yet the vast majority of research and practical action to better understand and improve wellbeing is focused on urban areas. Much less attention is paid to understanding the wellbeing of people in rural areas, despite growing evidence that some aspects of rurality can have a significant impact, for better and for worse.
Idealised visions of rural life are filled with idyllic close communities and life-enhancing landscapes. Evidence-based research to provide a more realistic, nuanced picture of what constitutes and supports wellbeing for rural communities has never been more needed as those communities try to reconcile an unfolding post Brexit, post covid and climate-adapted future.
In 2020 the Department for Environment, Food and Rural Affairs (Defra) commissioned Centre for Thriving Places (CTP) to undertake research to start to fill this gap. What aspects of the social, economic and natural environment most influence the wellbeing of people living in rural areas?
NEW WELLBEING FRAMEWORK
Having reviewed thousands of pieces of academic literature and reports, spoken to diverse rural communities and consulted with experts, rural leaders and practitioners, the urgency of this work became ever more clear. CTP's full report is now published on our website here. It goes beyond just outlining the findings, and includes a brand new Rural Wellbeing Framework and detailed indicator bank for rural local authorities and communities to use immediately to steer their work towards driving up levels of wellbeing across their regions.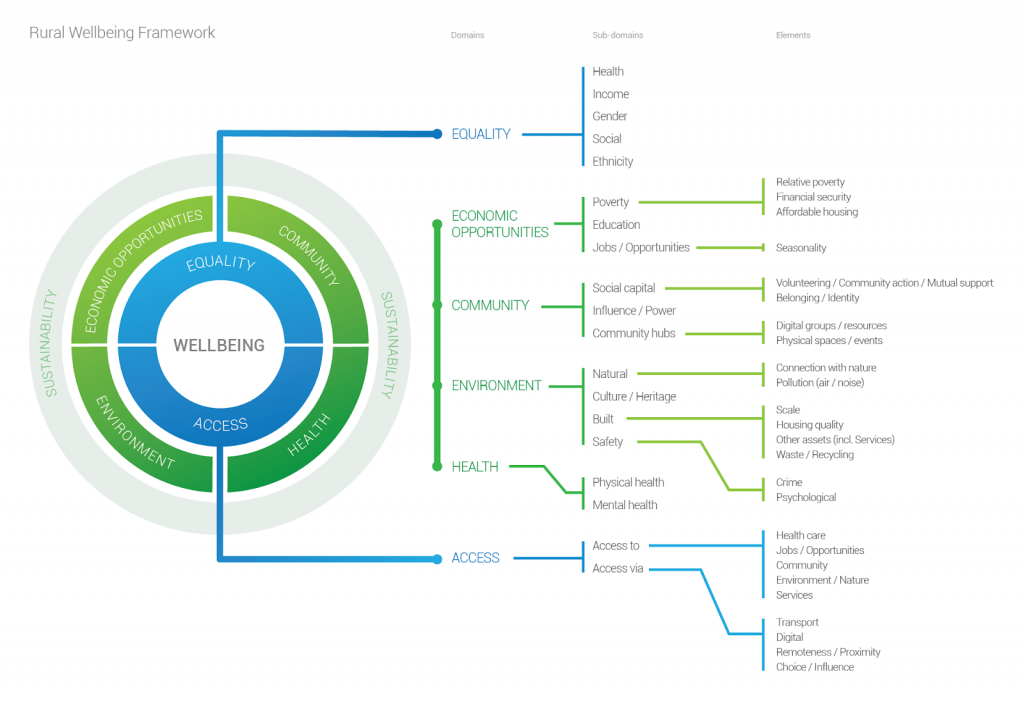 While many of the conditions that help us to thrive are universal – having our basic needs met, supportive relationships, a sense of belonging to our community, opportunities to learn, work and contribute – there are others that are much more contextual. In this research we unearthed challenges and opportunities facing today's rural communities when it comes to their capacity to thrive. These ranged from large seasonal disparities in economic opportunities, to unaffordable housing in many rural tourist hotspots, to limited access to diverse jobs for young and old alike. Alongside these of course there are major benefits, including the health and wellbeing gains of nature on the doorstep. Life in rural areas – from coastal regions to uplands – has its ups and downs.
UNDERSTANDING ACCESS
Access also emerged as a key theme both in terms of access to services, jobs, support etc and access via key enablers like transport, digital infrastructures and more. In rural project delivery and policy development, both the existence and quality of access need to be understood far more and taken into account across all aspects of the drivers of wellbeing. Rural life for many in our communities can be very tough without it.
Wellbeing outcomes are rarely simple or easily predictable. Our wellbeing is influenced by numerous factors including the context and environment in which we live and work. Our circumstances – personal, financial, social, physical and relational – all influence our ability to thrive. Such complexity has for too long been a barrier to consistently valuing and measuring wellbeing as an intentional, vital, even primary outcome of policy.
This new research uncovered layers of nuances to this for rural areas, and the brand new Rural Wellbeing Framework aims to take this complexity and make it manageable, meaningful and accessible to all. The wider report lays out many opportunities for better policy and practice to support far more equitable and sustainable wellbeing for current and future generations of rural communities.
Centre for Thriving Places has been at the forefront of work to support everyone from political leaders to grassroots practitioners to be able to put the wellbeing of people and planet at the heart of all they do. We are excited to be extending this practical support for a radical shift in priorities, to the many rural areas of the UK that so urgently need it.
I you are interested in working with CTP to access more local data, or get support to focus policy and practice on delivery wellbeing for all, get in touch via hello@centreforthrivingplaces.org
Liz Zeidler, Chief Executive, Centre for Thriving Places
Photo by Agnieszka Mordaunt on Unsplash