Centre for Thriving Places has been delivering our WOW Wellbeing workshops for seven years. In that time thousands of people have benefited from these introductory sessions, from business leaders to school children, prisoners to health workers, refugees to community leaders.
This highly interactive two hour session supports people to explore for themselves the what, why and how of wellbeing. It also introduces the 5 Ways of Wellbeing as a simple tool for boosting wellbeing and resilience in the everyday, and supports people to take that learning into their lives, workplaces and communities.
From board rooms to shop floors, health centres to school halls, from prisons to City Hall, participants of every age and background have benefited from our approach, and used the learning to support others around them. Whether you want a one-off shot of wellbeing, as a boost to your group, or you are looking for a place to begin a longer term investment in the happiness of your organisation or community, the WoW workshops are a great place to start.
If your organisation or community would like us to deliver this short and inspirational workshop, to help you grow your own wellbeing and resilience please get in touch at hello@centreforthrivingplaces.org
Materials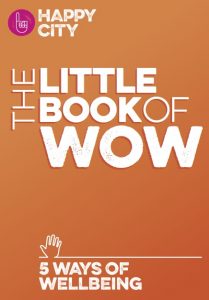 To support these workshops we have a range of materials, each co-created with communities. The  Little Book of WoW that accompanies this workshop, has become one of the most requested pieces of materials published by our partners Bristol Community Health, since it was launched in 2012. View it online here, or to order copies please email hello@centreforthrivingplaces.org
Background to the WoW workshops
Centre for Thriving Places was commissioned by the Public Health team in September 2011 to research 'best practice in marketing the 5 ways to increase wellbeing'. The research resulted in the creation of new materials and approaches to test with focus groups.
We exposed the four main barriers to the uptake of wellbeing promotion strategies as lack of understanding, acceptance, ability and implementation. Since then, we have continuously experimented and improved promotional approaches to the 5 Ways of Wellbeing with a range of new materials designed to appeal to specific audiences.
The original report is available here