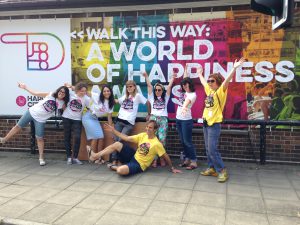 We're close to the finishing line in our Happiness Pulse trial – the test which will make positive headlines for Bristol in October when we release the results. Our city will become the first place in the world with a citywide measure of wellbeing directly linked to ways of improving people's lives.
But we really need your help. As the world of politics collapses in on itself, the work we're doing seems more significant than ever. It's a big deal.
Around 7000 people have already responded, but the majority are from particular groups (eg. students) – to do the city justice, we really need a minimum of 100 returns from each ward.
What we'd like YOU to do, is to visit community centres or public spaces in all the wards except Ashley which, thanks to Helen Rockliff's volunteer efforts on the streets is already complete. Helen just had postcards and the gift of the gab – ideally at this late stage, we'd like you to go with an ipad/tablet and ask people directly to fill in their pulse there and then.
It takes less than 5 minutes and gives instant, personally useful feedback. So far, 60% of the people who've told us what they think of it, say it's either Excellent or Very Good – and quite remarkably, 40% say they've made changes in their day to day lives as a result.
 
If you've been meaning to take your pulse and haven't – PLEASE DO IT RIGHT NOW
Here's the 1 minute animation we've been using to promote it in case you want to use it online. Click here for a chart showing how far there is to go in each ward to reach 100.
We have postcards like the one below in 15 designs which you can collect from the office on Victoria Street. Below I've shared the advice from two of our volunteers who've already been out there.
People seem to enjoy the experience, so it should be quite a fun thing to do for a few hours. It would be good if you could let us know where you'll be, when and for how long (roughly), so we can work out how much difference the collective volunteer efforts have made. Any questions, please call me, Mike on 07836 706978.
Good luck – and THANK YOU for whatever you can manage
Mike Zeidler
Top tips for volunteers
Smile! Be friendly and approchable
Take a tablet/iPad to show them the Happiness Pulse and see if they'll do it there and then
Introduce yourself and Happy City – be knowledgable – make sure you know exactly what the aims of Happy City are
Check if they want to talk in more depth about Happy City or if they are busy just a quick chat with key points
Make it clear that it's making a connection with Bristol as a city – it was engaging for people when there was a community focus. Emphasise Bristol is the first city to do this, make it relevant to them – it's their city too!
Know your audience – certain sites were less accessible e.g. Youth clubs attached to schools, some demographics may not have access to computers – however, don't make assumptions!
If someone seems enthusiastic or interested further the conversation or give them Happy City's contact details or tell Mike!
Look out for any local events – they could be used by Happy City and notify Mike/Happy City
Check websites before you visit – could aim for times e.g. in a community centre when a key demographic has an activity.
Aim for community centres, public spaces rather than private businesses
IF they can't or won't take their pulse on the spot:
Make it very clear how quick and easy the tool is – "it's under 2 minutes to complete", "just follow the URL"
As you leave, be sure it is clear what you are asking of them – how to take the pulse, how they can further promote it
Happy Pulse raising!
Cara and Zoe
For more information look at the project site here, or go direct to the survey here or share the short animation here.