Bristol-based design house Wylde IA have launched a competition to promote happiness within the workplace.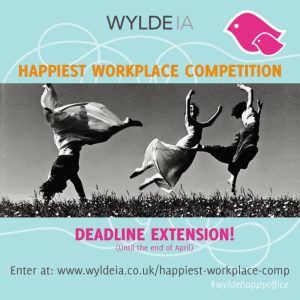 A happy workplace is crucial to a successful business – it encourages both individual productivity and also a culture of mutual support, helping to turn the 9-to-5 grind into something to be cherished rather than dreaded. It's for these same reasons that we value our community happiness so highly at our own workplace, the Happiness Hub (for more info on that, see our video here). And it's also why Wylde IA are re-running their wonderful Happiest Workplace Competition.
An award-winning, independent interior design and workplace consultant, Wylde IA know a thing or two about creating innovative and dynamic workspaces. They're inviting any and all workers from the South West to make nominations for the Happiest Workplace 2016 Award. Whats more, furniture design house Herman Miller have supplied some wonderful Zayn office chairs to reward 9 runners up, with the winning entry also receiving a total desk space makeover!
To enter, simply tell Wylde IA about what makes your workspace such a great place to work – is it the great interiors design and quality of furniture? A forward-thinking company ethos and culture that proactively supports your wellbeing? Or an innovative office design that allows you to work in different spaces in a variety of ways? Simply visit this site to check up on how to enter.