Centre for Thriving Places (formerly Happy City) aims to both provide new measures of progress and continue to push the dial to improve the data collected on what matters to peoples lives across the UK and beyond.  You can find our guidance on how to collect better qualitative and quantitive data on wellbeing here
During 2016 and 2017, CTP also lead a major piece of research and consultation to support local authorities to build a better local picture of what supports people to thrive.
Commissioned by Public Health England and Office for National Statistics, and in partnership with What Works Centre for Wellbeing, The Local Wellbeing Indicators Report  provides advice about the very best indicators to be used to give local authorities and policy makers an alternative to relying solely on traditional metrics, such as unemployment and material deprivation. The report provides advice and guidance on the best available indicators to measures people's quality of life from cradle to grave. This gives a more sophisticated picture of where communities may be at risk of health, financial and social problems.
You can read (or download) the full report by clicking here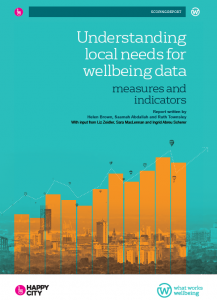 After consultation with individuals in 26 different organisations**, for the first time, the report gives local authorities a synthesis of the best local data on things like job quality, anxiety levels, social isolation, green space and how physically active people are to get better insights into what really matters to their communities. As ever, CTP, has worked with its partners to offer a practical approach to using the best research and existing data to get a better picture of what really matters to local people and enable local authorities to better #InvestIn local services today.
**including nine city councils, seven county or district councils, the three devolved governments (Wales, Scotland and Northern Ireland), and nine other organisations including the Local Government Association, Defra, The Health Foundation and the New Economics Foundation